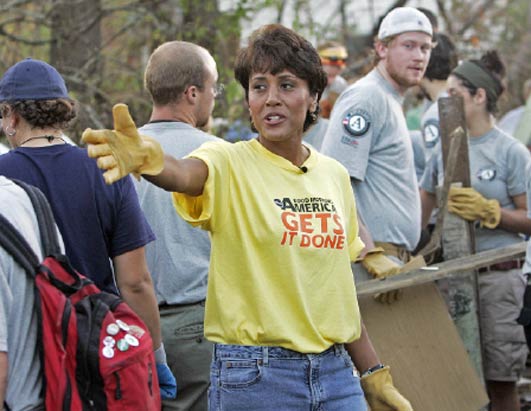 Those of us here on the Mississippi Gulf coast sometimes feel forgotten in the shadow of what happened in New Orleans.
So, not only have First Lady Laura Bush and the folks of "Extreme Makeover: Home Edition" visited Biloxi, now Robin Roberts and "Good Morning America" are pledging their help to the small town of Pass Christian, Miss.
When Hurricane Katrina slammed the Gulf Coast, it hit very close to home for "Good Morning America" anchor Robin Roberts. Roberts grew up on the Gulf Coast in Pass Christian, Miss., a town of 6,000 that lies about 13 miles west of Gulfport. …

As cities and towns along the Gulf Coast begin the rebuilding process, "Good Morning America" will document the recovery effort in Pass Christian, 80 percent of which was destroyed in the storm. "GMA" will also partner with the Salvation Army and the Corporation for National and Community Service to "adopt" Pass Christian.
This is very good news and a great way for the media to keep attention on "under-served" areas.

Read the whole story and the rest of "GMA's" coverage.

Photo from the ABC.com website